Everything is in everything
Marts 03, 2015
rum46
Studsgade 46
19:30 – 22:00
–––––––––––––
Deltagere: 9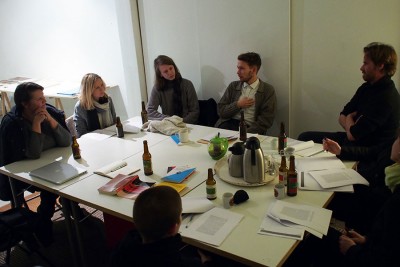 Introduktion: Philip Matesic

/DK/
Det er en stor fornøjelse at indlede platformen "Teoretiske Tirsdage" v. kunstner og lektor Philip Matesic, grundlægger og koordinator af det Zürich–baserede projekt Theory Tuesdays. Matesic har i anledningen valgt at præsentere to essays der i direkte forstand relaterer sig til kernekoncepterne bag den igangværende schweiziske platform.
Introduktion til teksterne ses nedenfor.
/ENG/
The first essay, "Communist Education" by Jan Voelker is an essay from the anthology Everything Is In Everything: Jacques Rancière Between Intellectual Emancipation and Aesthetic Education in Smith, Jason & Weisser, Annette (ed.) 2011. This essay addresses issues of spectatorship, participation and a horizontal form of education using historical references to Joseph Jacotot by Jacques Rancière.
The second essay, "No Longer Normal: Critical Exchanges In The Landscape Of Art" by Ted Purves and Shane Aslan Selzer is a text from the second edition of the book What We Want Is Free: Critical Exchanges In Recent Art 2014. "No Longer Normal" addresses contemporary issues related to economy and exchange in art and a everyday context.